Game Facts:
Monday, November 14, 6:30 p.m. tip, Finneran Pavilion, Villanova, PA
TV:FS2: Play-by-Play: Scott Graham Analyst: Jim Spanarkel
RADIO: Villanova iHeart Radio Network, Play-by-Play: Ryan Fannon Analyst: Whitey Rigsby

All-Time Series: Villanova Leads 1-0. The only previous meeting was a 67-44 Villanova win at the Pavilion
Kenpom.com Predicted Result: Villanova 86 – Delaware State 51 (99.9% chance of a Wildcat win)
The Match-Up:
Villanova (1-1 overall, ranked #16 in the AP Poll, #26 kenpom) hosts MEAC Conference member, Delaware St. (#361 kenpom) at the Finneran Pavilion on Monday evening. Hornet Head Coach, Stan Waterman, entering his second season with the program, has compiled a 3-27 record in his brief tenure. Delaware St. failed to win a MEAC conference game last year and ended up ranked ahead of only Eastern Illinois and IUPUI in the kenpom rankings (356th out of 358 D1 programs). That poor performance last season heavily impacts their early kenpom ranking in the 2022-23 season – which stands at 362 (out of 363). The Hornets got drilled in their opener against Virginia Tech, 95-57 and followed that up with a 104-67 win over non-D1, Immaculata.
Keys to the Game:
Villanova needs to come out and play aggressive, team basketball for forty minutes and all should end well

The level of competition in this game will likely make it difficult to gather any important take-aways or learn much about the team – it is essentially a live scrimmage

Get plenty of minutes for Brizzi, Armstrong, Njoku, and Patterson in particular.
Four Factors:

Villanova Notes:
SUVSports 2022-23 season Villanova player previews
SUVSports 2022-23 season preview
VUSports talks Villanova basketball with Kyle Neptune (Part 1)
VUSports talks Villanova basketball with Kyle Neptune (Part 2)
As the torch passes from Jay Wright to Kyle Neptune: reflections on the journey – confidence for the future
Delaware St. Player Notes:
Brandon Stone (6-11, Senior) Stone is any important cog in the Hornet offense (28.1% Possessions and 31.1% Shots). Averaging 20 ppg and 8.5 rpg. while shooting 64.3% FG and 42.9% 3PFG. Stone is rebounding the ball well at both ends of the court. Career 50.3% 2PFG and 33.8% 3PFG. Played at La Salle for two years, then Robert Morris for one before transferring to Del. St.
Khyrie Staten (6-1, Soph.) Staten leads the team in minutes and is heavily involved in the offensive flow. He is averaging 18.5 ppg, 3.5 apg, and 3 spg. Shoots plenty of threes – converting at 38.5%. Very active and disruptive defender. Career 57.9% 2PFG and 18.2% 3PFG.
Raymond Somerville (6-11, Soph.) Skilled shot-blocker and defensive rebounder. Averaging 7.0 ppg and 3.0 rpg. Offense is limited to the paint – even inside, he has converted only 46.2% FG. Transfer from Cal St. Bakersfield (played there for two seasons). Career 35% 2PFG shooter with 0 3PFG attempts.
Martaz Robinson (6-2, Junior) Good set-up man – averaging 4.5 apg. Off to a slow shooting start this season with 3-11 FG, 0-4 3PFG. Career 35% 2PFG and 31.7% 3PFG.
Jevin Muniz (6-6, Frosh) Averaging 8.5 ppg – shooting 7-12 FG and 3-5 3PFG over his two game career. Averaging 2 assists and 1.5 steals per game.
Corey Perkins (6-2, Soph.) Averaging 6 assists per game. Providing quality defense off the pine. The Wilmington native has made 37.3% 2PFG and 35% 3PFG over his career with the Hornets.
Cameron Stitt (6-8, Soph.) Good rebounder on both ends of the court.
Aaron Lemon Warren (6-5 Frosh) Averaging 1.5 steals per game. Still looking for his first made FG – shooting 0-6 FG. He has drained all 4 of his career free throw attempts.
Delaware St. Stats: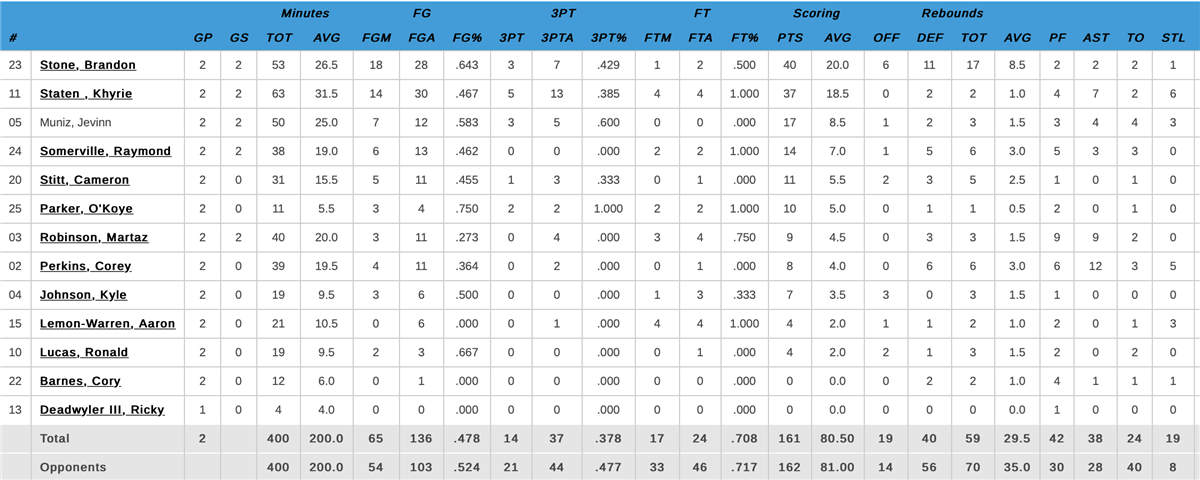 Villanova Stats:

Here is some Villanova basketball history for your enjoyment:
Top 25 All-Time Villanova Teams (VIPs)
Villanova Basketball All-Time Stat Leaders (through 2021-22)
Villanova Basketball Stat Leaders by Season (through 2021-22)
Villanova Coaching Records (Updated 2022)
Villanova All-Decade and All-Time Teams (through 2021-22)
Villanova NBA Draft History and Stats (through 2022) (VIP)
Villanova Basketball NCAA Tournament History (through 2022) (VIP)
NCAA Basketball Post-Season All-Time Rankings (through 2022) (VIP)
All-Time NCAA Tournament Performance Rankings
Road conditions faced by NCAA Basketball Champions since 1985
Talk about this on our subscriber message board: Nova Nation
For breaking news and notes on everything Villanova basketball, Villanova football and Villanova athletics:
SIGN UP for the FREE SUV Sports Newsletter
For the best inside Villanova basketball, football and sports info and for the best Villanova basketball and football recruiting coverage in the galaxy:
SUBSCRIBE to VUSports for Insider Info on everything Villanova Sports: CLICK HERE